PARTICIPATE in our contest and win 2 great books. See details here ⇒ GAMES

Scripture captivates me
THE WORD of God is intriguing and absorbing, and occasionally I lose my grip on the passing of time when reading.
As I toyed with the wording and concepts of 2 Peter 1:2-11, I noted a pattern. Two spirals, actually. One going up and the other going down. But to lay the foundation for this spiritual blueprint for growth, the Apostle Peter reminds believers that . . .
BY RECEIVING Christ, who called you, and by knowing/experiencing Him in full, you have His divine power living in you, meaning you have everything you need in order to live a godly life.
When you partake in His divine nature
you WILL escape the corruption of the world.
SO I ASKED, what does that look like? What's my part in bringing to fruition this divine nature that's in me and that's at war with my fleshly nature?
In short, God, speaking through Peter, told me to "Grow up."
(verses 5-7)
THE UPWARD SPIRAL
Add to your faith: (in this order)
• goodness [virtue; moral excellence]
• knowledge [study of Scripture]
• self-control
• perseverance [or patience to endure the training process]
• godliness [devotion; increasing service for God w/abandon]
• kindness for your brothers and sisters in Christ [philadelphia]
• love [agapē]
Welcome! His Kingdom has come into your life! You are prepared for battle.
<>
⇓
THE DOWNWARD SPIRAL
(By exchanging words with the opposite meaning to those above, note the downward slide into the moral condition Peter says to escape: "the corruption that is in the world through lust" or "worldly corruption of one's heart."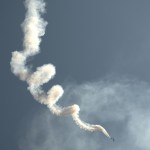 • Immoral vice (we're all tempted by one)
• No knowledge/study of Word
• Indulgence & lack of self-discipline
• Lack of diligence (inconsistent character)
• Spiritual apathy & irreverence for God
• Coldness & cruelty (toward people)
• Hatred
Zoinks Scooby! You are now a SLAVE of sin.
⇑ READ THAT AGAIN, AND NOTE THE PROGRESSION ⇑
Then Peter sums everything up in vv 8-11
For if you possess these traits and multiply them, then you will never be ineffective or unproductive in your relationship with our Lord Jesus the Anointed; but if you don't have these qualities, then you will be nearsighted and (spiritually) blind, forgetting that your past sins have been washed away. Therefore, brothers and sisters, work that much harder to confirm that God has called you and claimed you. If you do this, then you will never fall along the way; and you can be sure that you will be richly welcomed into the eternal kingdom of our Lord and Savior Jesus the Anointed, our Liberating King.
CHRIST IN US CREATES INTRINSIC VALUE
<>
The Maturity of the Embattled Spirit