"Mirror, Mirror," a quirky novella
"Humorous tale… Poignant message of how our life is mirrored through our actions and reflected in how we view ourselves versus others. Easy read, but lasting impression." Amazon reviewer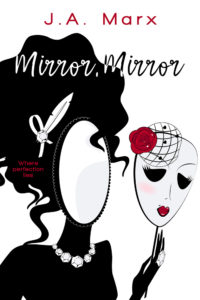 Lonely and wounded from a past relationship, Narcisse de Coeur now believes beauty, fame, and gold will help her snare the perfect knight. Her only thorn in the side is her lowly niece who vexes Narcisse with nonsense about Divine love trumping all other loves.
Oliver Deere interviews for the makeup artist position at Narcisse's unique boutique. Once he learns what really goes on behind the doors of her shop, he changes his mind—until Tawny, the owner's angelic niece, enters the storefront. Captivated by the girl's character and free spirit, Oliver is soon caught up in her battle to agape-love Narcisse out of her pit of anger and resentment.
As Oliver's affection for Tawny increases, Narcisse's envy burns. Can genuine love prevail in a setting where "imitations" sell, or does everyone feign love?
Buy it at Amazon Mirror, Mirror