Posted by
Nov 9, 2014
in
Blog
|
0 comments
on
COUNT THE COST
IS IT WORTH YOUR SACRIFICE?
BLESSED are the poor (in spirit), for theirs is the kingdom of God (v.20)
ACKNOWLEDGING my sinful condition ⇒ I'm saved by faith
Happily POOR in the eyes of the world for the sake of Christ ⇒ I'm empowered by resurrected Savior
Living SACRIFICIALLY for Christ ⇒ I'm piling up riches in heaven
NOT SO BLE
SSED (v.24)
But WOE to you who are rich and abounding in material resources, for you already are receiving your consolation [the solace and sense of strengthening and cheer that come from worldly prosperity] and have taken and enjoyed your comfort in full, having nothing left to be awarded you.
<>
BLESSED am I when I hunger (in spirit) now, for I shall be filled, satisfied (v.21a)
Panting for TRUTH and life⇒ satisfied by Living water
CRAVING spiritual food (Tree of Life)
SEEKING God with

all

 my heart,

all

 my mind/will/emotions,

all

 my strength
NOT SO BLESSED (v.25)
WOE to you who are full now, completely filled, luxuriously gorged and satiated on earthly things, for you shall hunger and suffer want!
<>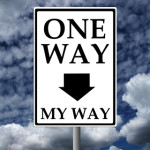 BLESSED am I, though I weep now, I shall laugh (v.21b)
MOURN over my sin; I am forgiven and empowered by grace
JOY comes in the morning after a night of sorrow
The SUPERNATURAL Kingdom enters my natural world
NOT SO BLESSED v.25
WOE to you who laugh now with worldly pleasures, for you shall mourn and weep and wail!
<>
<>
 BLESSED am I when I'm hated, excluded, mocked, insulted, & scorned as evil because I follow Christ  (v.22-23)
I am REWARDED in heaven
My VICTORY in heaven is "rich and great and strong and intense and abundant"
My SUFFERING here on earth

can never

 compare to the glory awaiting me in Heaven
NOT SO BLESSED v.26
WOE to you when everyone speaks fairly and handsomely of you and praises you…
♦
A selfish lifestyle takes no effort at all,
A blessed life takes sacrifice and soul work.
A selfish lifestyle is deception and oppression,
A blessed life is freedom to live and love. 
♦
The message of the cross is foolish to those who are headed for destruction! But we who are being saved know it is the very power of God….For God chose things the world considers foolish in order to shame those who think they are wise. And he chose things that are powerless to shame those who are powerful. God chose things despised by the world, things counted as nothing at all, and used them to bring to nothing what the world considers important. (1 Corinthians 1)
The Way of the Embattled Spirit