Posted by
May 16, 2016
in
Blog
|
0 comments
on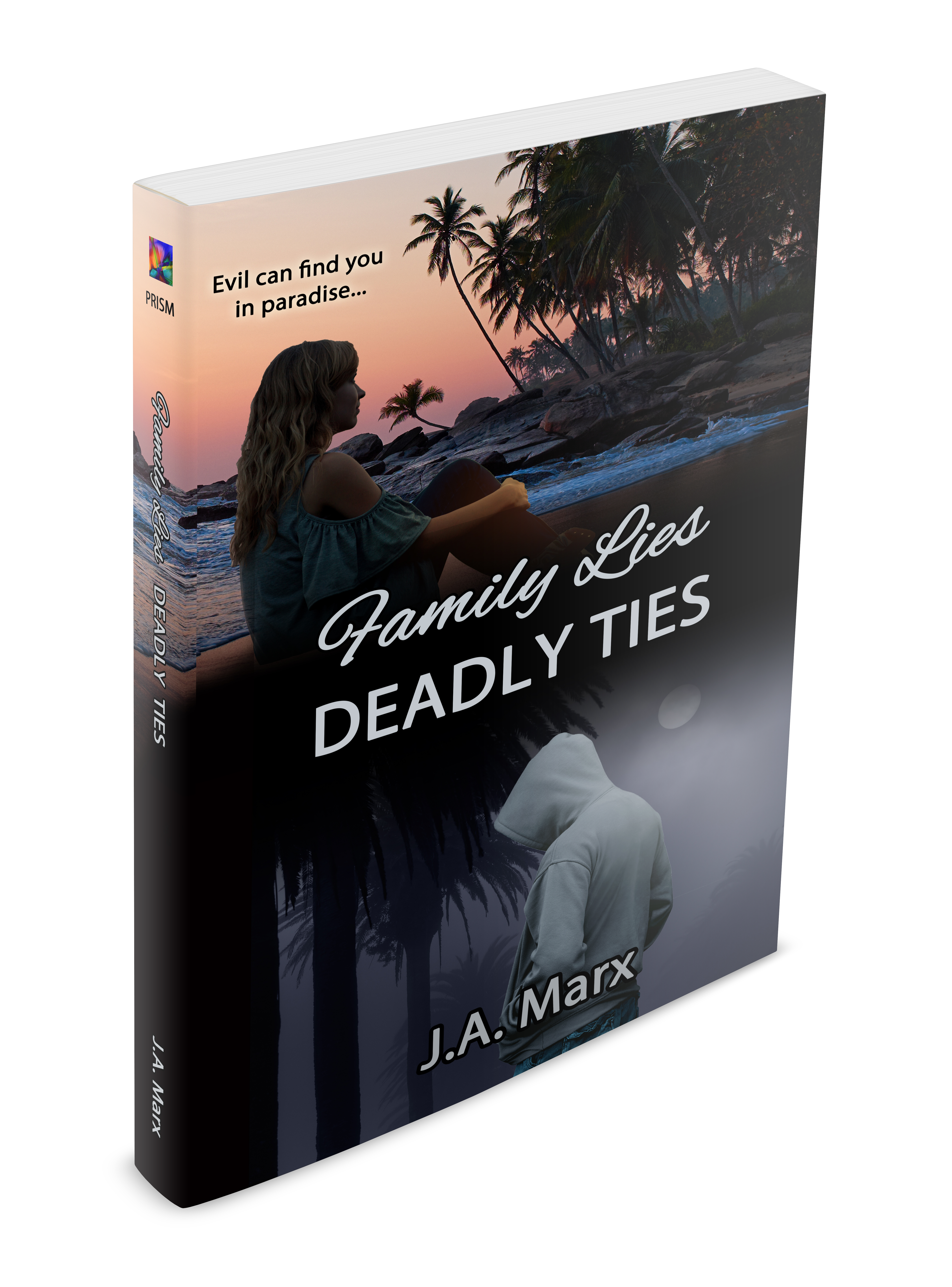 WOOHOO!
J.A.'s 2016 romantic SUSPENSE released last week through Prism Book Group on Amazon
Family Lies
 
.   .    .
 Deadly Ties
Click the book to order, available in Kindle and softcover. (Read excerpt #1 HERE)
.
.
Stay tuned for the official Facebook launch party in late May (early June). Win prizes!!
Here's excerpt #2 from J.A.'s new novel
Chapter Two
The town of Hanalei, Puff the Magic Dragon's vacation spot, had a population under five-hundred and not much to offer in the way of nightlife. That shortage no longer bugged Noah Logun. Discovering his life's mission had altered his outlook on everything. He stuffed his hands in his hoodie pocket and quickened his pace along Kuhio Highway.
A group of wandering tourists cut in front of him. Noah whirled out of their path and sprang off the step of the restaurant, their obvious destination.
The two couples, blind to his agile maneuver that spared them a collision, entered Tahiti Nui Restaurant. A major tourist attraction, Tahiti Nui was famous for the Mai Tais and live music. He used to wash their dishes.
Turning down Aku Road and toward the Ching Young Village Shopping Center, Noah made a beeline for a local dive across the street. No matter what time of year, Laki Nalu Tavern, Hawaiian for Lucky Wave, attracted mostly locals who favored a cave-like atmosphere over the open-air watering holes typical of Kauai.
Noah entered the dimly lit pub, and the sharp scent of mango-infused disinfectant licked his nose. The worn-out aroma was apparently the owner's preferred sanitizer. Weaving through the tables, Noah bounced his fingers off the tacky dark-wood furniture that had a freshly polished gleam. He figured the interior was purposely designed to resemble the hull of an old sailing ship. The porthole-shaped panes, complete with ship's wheel window casing, rationed natural lighting. Less light gave him more of an advantage.
Nabbing a stool at the bar, Noah looked for her. Any her….
Check out the beautiful island-setting pics on J.A.'s Pinterest board for "Family Lies, Deadly Ties" ⇐Click the title 
A Novel by the Embattled Spirit