Posted by
Jun 13, 2016
in
Blog
|
0 comments
on

TWO LIGHTS. Put side by side, as are the phrases in the above box, it's easy to see the difference between physical light and spiritual light.
OR NOT, because apparently not everybody 'comprehends' the more important of the two lights.
How mind-boggling — when you turn off the light, the Light never goes off.
First (physical)…
IMAGINE the world with . . .
No

hope

No

healing
Complete

chaos

Double 

death

Untamable 

insanity

No

 authentic enlightenment of who we are or our purpose for existing
"LIFE'S A ___, and then you die." Struggling and death would be the end-all in a universe with no God, more specifically, a world without Jesus Christ, Son of God, without Ohr Goyim (light of the nations, Isaiah 42:6)
LIGHTEN UP, friend, 'cuz Jesus is making an illuminating comeback.
Second (spiritual)…
IMAGINE the Inextinguishable Trinity:
A Light that cannot be stifled: Father
A Light unperceived by darkness: Son
An eternal Light that outlasts darkness: Holy Spirit
"As long as I (Jesus) am in the world, I am the light of the world."  John 9:5
"For at one time you were darkness, but now you are light in the Lord." Ephesians 5:8
NO batteries? No problem. It's a self-sustaining Light. (Step aside Energizer Bunny!)
A Perfect Flashlight, Day or Night: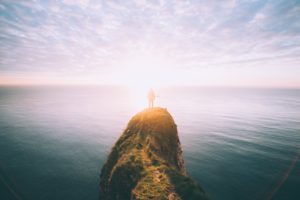 "Your Word is a lamp unto my feet." Psalm 119:105 HOW PRACTICAL!
"He reveals deep and hidden things; he knows what is in the darkness, and the light dwells with him." Daniel 2:22  HOW MYSTERIOUS!
"I am the light of the world. Whoever follows Me will not walk in darkness, but will have the light of life." John 8:12 HOW REASSURING!
Read The Fascinating Facts of Light. It's worth knowing more.
The Light of the Embattled Spirit
IF YOU HAVEN'T ALREADY DISCOVERED THE ADVENTURE…
Check out J.A.'s newest release (click the book cover)