Posted by
Aug 10, 2015
in
Blog
|
7 comments
on
–
LOW VALLEYS, dark places, never-ending nights are all realities in a fallen world. Some of us scrape by with minimal scaring, others of us feel we've been stabbed 1,000 times. These seasons always pass in due time, but while we're walking (or crawling) through them, they sometimes drag on and push us to our emotional limits—or, at least, what we perceive are our limits, to the edge of hopelessness, and even into the dark shadows of paralyzing fear.
–
Do we blame other people? Do we accuse God?
I have the right to choose my responses. Knowing I'm never alone gives me courage to choose what's right.
♥ ♥ ♥
RAW REFLECTION ON PSALM 27
Close to death
The end of a dream
Sorrow rises, seeking to overtake the weary soul
My heart shall not fear
Though war may rise against me,
In this I will be confident
The Lord is the strength of my life
What was once better together
Has been torn, ripped, shredded
Promises … broken
Vows … shattered
One is "handed over" to destroy the flesh
…and save the soul
The other is left standing. Forsaken
…yet never alone
For in the time of trouble
He shall hide me in His pavilion;
In the secret place of His tabernacles
He shall hide me
He shall set me high upon a rock.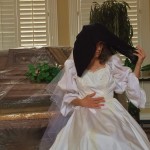 Do not destroy with bitter names!
Do not gossip or wish destruction!
Do not slash with your words!
…Simply turn way (2 Timothy 3:5 )
Wait in faith on the Lord;
Be of good courage,
And He shall strengthen your heart;
Wait, I say, on the Lord!
–
My friends, "Guard your hearts above all else,
    for it determines the course of your life." Proverbs 4:23
THIS SEASON WILL PASS
HEALING MUSIC: I Am Not Alone, by Kari Jobe
The Hope of this Embattled Spirit