Posted by
Jan 30, 2017
in
Blog
|
0 comments
on
The Latest News From the Embattled Spirit Team
Are you writing a book? Do you want someone to guide you through the process? J.A. Marx is finally offering her well-refined editing skills to the public. Check out our Writing Mentor PAGE  
---
Kings, Slaves and Heavenly Perspectives
.
"AND THE KINGS of the earth, the great men, the rich men, the commanders, the mighty men, every slave and every free man, hid themselves in the caves and in the rocks of the mountains, and said to the mountains and rocks, 'Fall on us and hide us from the face of Him who sits on the throne and from the wrath of the Lamb!'"  Revelation 6:15-16 
Kings. Great men. Rich men. Commanders. Mighty men. Every slave. Every free man. That covers pretty much EVERYBODY.
AFTER READING Revelation chapter 6, this impartial Judgment of all creatures great and small pointed me toward an interesting dichotomy between two realms.
SINCE the fall of Adam, man, no matter what his position in world, has never ceased trying to do life his own way apart from God — and utterly fail. These verses point to the sure, yet avoidable, self-destruction of every human who denies Christ Jesus as Lord. (Matt10 & 1John)
IN THE END, they will even call out to "mountains and rocks" to hide them from God, the very Creator of these earthly formations (verse 16).
♦
The Dichotomy
But the awesome news hides in the Sermon on the Mount, where Jesus reveals to those who have ears to hear an entirely different perspective on the same grouping of men referenced in Revelation 6. Tell me if you see the similarity.
"Blessed are the poor in spirit, for theirs is the kingdom of heaven" — this defines true kings.
**"Blessed are those who mourn, for they shall be comforted." — (All believers; see note below)
"Blessed are the meek, for they shall inherit the earth" — defines authentic Mighty Men.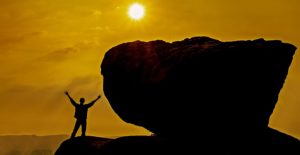 "Blessed are those who hunger & thirst for righteousness, for they will be satisfied" — defines indestructible riches & satisfying wealth.
"Blessed are the merciful, for they will obtain mercy" — gives definition to a new type of Commander (think duties of war).
"Blessed are the pure in heart, for they shall see God" — defines true slaves of righteousness, pure hearts, completely surrendered to God.
"Blessed are the peacemakers, for they shall be called sons of God" — a mark of truly great men.
"Blessed are those who are persecuted for righteousness' sake, for theirs is the kingdom of Heaven" — defines the ultimate example of free men.
** Blessed are those who mourn. One of the first steps to growing as a disciple of Christ is to humble ourselves and mourn over our own sin James4. Until we receive divine forgiveness, we will never experience profound comfort and never live the blessed life.
.
How about you?
Are you going to count on earthly elements for help?
Or have you sought the One who can
set you free
and satisfy you
ALL according to His glorious riches?
An Exhortation of the Embattled Spirit